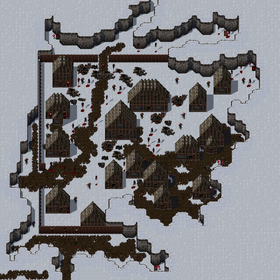 Stahlberg
was a city
Kain
visited in
Blood Omen: Legacy of Kain
.
Stahlberg was South of the Land of the Nemesis and was once the home of Nosgoth's Universities. When Kain arrived searching for Elzevir the Dollmaker, he found Stahlberg destroyed by the Legions of the Nemesis and it's citizens massacred. He again came close to Stahlberg when passing along nearby the Plains of Blood in the Battle of the Last Stand.
After Kain changed history and eliminated the Nemesis, he passed through Stahlberg again; this time it was pristine, restored to its fromer glory. However Stahlberg provivded Kain with his first hints that something was wrong - The enormous Nemesis statue was shattered and Kain was assailed by new vampire hunters, To the South of Stahlberg he heard cheers and the scent of Blood; discovering Moebius's mercenary army and it's execution of Nosgoth's final vampire (except Kain) - Vorador.
Appearances
Edit
References
Edit
Ad blocker interference detected!
Wikia is a free-to-use site that makes money from advertising. We have a modified experience for viewers using ad blockers

Wikia is not accessible if you've made further modifications. Remove the custom ad blocker rule(s) and the page will load as expected.