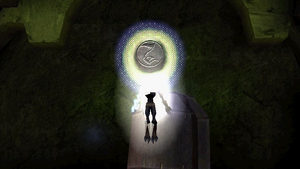 The
Sound Glyph
is the third Glyph Spell that was acquired by
Raziel
. It can be found in the
Zephonim
Territory. To obtain it, Raziel needed to have the
Phase Through Gates
,
Scale Walls
and
telekinetic force projectiles
ability. Raziel had to simply strike a bell in the temple with a mallet and after that, the glyph appeared. It requires 4 points of
eldritch energy
to use. When used, Raziel clapped his hands once and an ultrasonic wave would stun all nearby vampires. It cannot kill them though and it has no effect on humans. It should be noted that once stunned, they can be killed with a finishing move.
The Sound Glyph was originally much more powerful, as seen in the Soul Reaver Later Beta version. Its shockwave actually kills the stunned vampires. This feature is described in the manual but was cut from the retail version of the game.
Ad blocker interference detected!
Wikia is a free-to-use site that makes money from advertising. We have a modified experience for viewers using ad blockers

Wikia is not accessible if you've made further modifications. Remove the custom ad blocker rule(s) and the page will load as expected.