Home
Talk

44
1,851pages on
this wiki

Welcome to the Legacy of Kain Wiki, the free Legacy of Kain encyclopedia that anyone can edit.
This main page is currently under construction (December 2014)
Chronicling the Land of Nosgoth since 2007
Community portal – Editing – Facebook – Twitter – Contact
News
Create blog post
Admin team update - the new search bar atop pages is not part of our redesign, but an unsolicited experiment on a new form of global navigation by our parent hosting service, Wikia. As it currently stands the new bar remains uncustomisable – against our will – and will remain in place until at least January. You can find out about it and give feedback on the changes here: http://community.wikia.com/wiki/User_blog:Rupert_Giles/Global_Navigation_Update

Please also direct complaints to this address: http://community.wikia.com/wiki/Special:Contact/general

Original text: Welcome back. Okay, first and most obviously you may have noticed a change on the front page and my usually humble update blog has taken centre stage on the main Legacy of Kain Wiki front page. Let me reassure you that this is nothing more than a temporary measure as the front page is redesigned - normal service will be resumed in a little while.

So now summer has faded and winter is fast drawing in what has been happening in the world of Legacy of Kain and the wiki? The short answer is it's been busy and we can always use extra hands to click 'edit' and add to stub articles.

In August Legacy of Kain: Soul Reaver reached its 15th Anniversary, several sites put up extra content to celebrate the occasion; including a new HD Raziel sculpture from HD artist the Hylden and a retrospective from SR1 master Raina Audron. Suitably Aevum made a short retrospective of his own on the title at the Square Enix forums, linked the other developments and released a set of previously rare interviews to celebrate - click here for the low-down. In other news Denis Dyack has broken his silence on LoK and spoke about it and his attitudes towards the series in an interview here.

In terms of wiki-work, there has been so much going on it's hard to adequately summarise. As you can see, there is some major redesign work currently in progress on the front page, but a number of other areas have had additions, expansions and changes of their own. For starters there is a new Category for Narrative influences, containing stubs for acknowledged real world inspirations and themes of the series. Our Sources category has also had several additions and updates as we endeavour to preserve old material. Our History categories have also had a major rearrangement, with Eras, Timelines, Paradoxes, Events and Factions all becoming sub to the main History category and with Events in particular overhauled and having many new additions including the Summon…

Read more >
See more >
Categories
Mythology
Analysis
Production
"Stones, too, can lie..."
The Legacy of Kain series
Other games and media
Featured article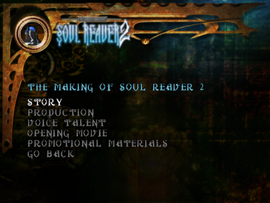 Bonus materials were a set of materials from the development of Soul Reaver 2 and Legacy of Kain: Defiance that were partially unlocked through play and fully awarded to players upon completion of the appropriate game. Bonus materials comprised of a number of images, audio excerpts and videos related to the development of the series as a whole, providing a backdrop to the conception and implementation of the Legacy of Kain series.
---
Read more... · Featured article candidates
Featured media