Home
Talk

44
1,851pages on
this wiki
the free Legacy of Kain encyclopedia that anyone can edit.





The Legacy of Kain series comprises five action-adventure video games released between 1996 and 2003, primarily developed by Crystal Dynamics, and currently published by Square Enix Europe. Each entry in the series incorporates elements of action and puzzle-solving in its gameplay, and all take place in the fictional setting of Nosgoth, united by the character of Kain, the series' vampire anti-hero.
Although technically a pentalogy, the series is effectively made up of two duologies telling the separate stories of Kain (Blood Omen) and Raziel (Soul Reaver), with both culminating in Legacy of Kain: Defiance. The games have enjoyed critical success, and – despite their present dormancy – continue to be widely praised and highlighted for their high-quality voice acting, storytelling, and visuals.
The Legacy of Kain Wiki is an unofficial fansite, maintained by volunteers, covering the games and accompanying media, and hoping to fully document the content, history, and potential future of the series and related topics in an approachable and comprehensive manner. It is not affiliated with, or endorsed by, Square Enix Europe, Crystal Dynamics, or any of their subsidiaries, employees, or associates.
Indulge your hunger...
Games and media
"In Life and Beyond"
The five games comprising the series to date, plus related games, merchandise, and projects.
Chapters
"Destiny is a Game"
Walkthroughs, transcripts, and analyses of the chapters which compose each of the games.
Characters
"The Players"
The myriad cast of immortals, Guardians, and manipulators whose actions form the crux of the story.
Locations
"This Dying World"
Nosgoth's known landmarks, cities, fortresses, ancient ruins, and dimensional planes.
History
"All the Conflict and Strife"
The complex chronology of the series and its world, including major events, eras, and timelines.
Inhabitants
"We are Legion"
Vampires, humans, Hylden, and other fauna and flora dwelling within the setting.
Items and equipment
"Relish for Slaughter"
Kain and Raziel's mighty instruments of destruction, and all of their unique attributes.
Abilities
"The Dark Gift Manifests"
Powers earned, won, and stolen alike over the course of the protagonists' journey.
Enemies
"Suffering to the Conquered"
Malevolent forces marshaled to eliminate Nosgoth's anti-heroes, and the means to overcome them.
Terms
"A Lesson at Every Turn"
A glossary of miscellaneous concepts, words, and phrases in the context of the series.
Personnel
"Worshiping a Giant Squid"
The real-life cast, crew, and studios responsible for developing the Legacy of Kain.
Cut content
"The Planes of Possibility"
A range of cut, deleted, altered, and unused concepts and material from behind the scenes.
News
Create blog post
Admin team update - the new search bar atop pages is not part of our redesign, but an unsolicited experiment on a new form of global navigation by our parent hosting service, Wikia. As it currently stands the new bar remains uncustomisable – against our will – and will remain in place until at least January. You can find out about it and give feedback on the changes here: http://community.wikia.com/wiki/User_blog:Rupert_Giles/Global_Navigation_Update

Please also direct complaints to this address:…

Read more >
See more >
Site and activity map
Social media
Questions or concerns?
Contact the admins:
legacyofkainwiki@gmail.com
Featured article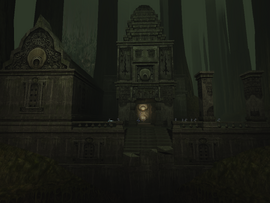 Featured media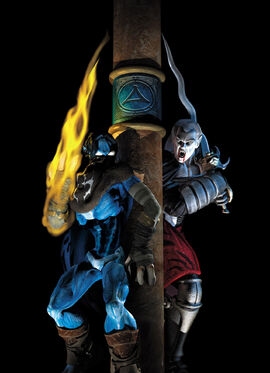 Official sites

Nosgoth.com
The official Nosgoth site and forums

– Eidos Forums
The official Legacy of Kain forums

– DCabDesign.com
Series art director Daniel Cabuco's site

English-language community
– Dark Chronicle
The Encyclopædia Nosgothica

– Nosgothic Realm
The oldest Legacy of Kain fansite

– The Lost Worlds
Preserving deleted and altered material

- The Hylden Dimension
Moderator updates on the series

– Time Streamer
An enduring nexus for fan creations

Fan project hubs
– The Ancient's Den
Frequent updates on the series

– Revival
A 2D side-scrolling fan sequel

– Blood Omnicide
Blood Omen: Legacy of Kain in 3D

– lokclan
deviantART's Legacy of Kain hub

– Fuck Yeah, Legacy of Kain
A tumblr. blog for the games

Other languages
– The Reaver Blog
The premier Brazilian (Portugese) blog

– Le Royaume de Nosgoth
A French-oriented fan website

– Legacy of Kain.de
The largest German fansite

– LegacyOfKain.it
Facts and lore in Italian

– Legacy-of-Kain.ru
Legacy of Kain site for Russian speakers

– Legado de Kain
Comprehensive information in Spanish

Annotation on copyright information
The Legacy of Kain Wiki is a fansite, not affiliated with, or endorsed by, Square Enix Europe, Crystal Dynamics, or any of their subsidiaries, employees, or associates. Despite the commercial nature of Wikia (the site's hosting service), the small number of volunteer administrators responsible for producing the site's content strictly do not profit from this maintenance, and are not professionally associated with Wikia itself. From their perspective, the site is solely intended to serve as a tribute and guide to the franchise.

Original written content at the Legacy of Kain Wiki is freely licenced and distributable under the Creative Commons Attribution-ShareAlike License. Generally, quotations, images, sound files and other media are the property of Square Enix, Crystal Dynamics, or other bodies and individuals where respectively noted. We believe that their inclusion constitutes Fair Use under international copyright law. No offense, or breach of any individual's trust, copyright or intellectual property rights, is intended by the site administrators.

If you feel that your rights have been infringed by the Legacy of Kain Wiki's use of content, or if you have any other queries or issues related to Legacy of Kain and the wiki itself, you can contact the current site administrators by e-mail at legacyofkainwiki@gmail.com, who will be happy to answer or resolve the issue to the best of their ability.