Chronicling the Land of Nosgoth since 2007
Community portal – Manual of Style – About us
E-mail – Facebook – Twitter
Create blog post
News
Well, I keep meaning to do these more often and keep finding distractions to hold me off. So apologies for the now almost routine delays in my bigger round-ups. As usual, there have still been a lot of things going on. So without further ado, let's continue.

First off in late January we reached 1000 likes on our Facebook page. It may be a drop in the ocean compared to the number that visit the main website every day, but the Facebook page is still our main outlet for news and work summaries. So a big thank-you to everyone that has followed us.

As for updates on the website, there is still a lot of work going on in many articles - particularly in the areas of general and recurring terms with completed pages on the World map, Ignis Fatuus, Rotatable and movable objects and Permeable barriers - with completed pages on Wheels (formally titled 'valves') and Levers hailing a makeover and examination on the different switch mechanisms used in the games. In addition there are several other comp…

Read more >
See more >
Games
Categories
Featured article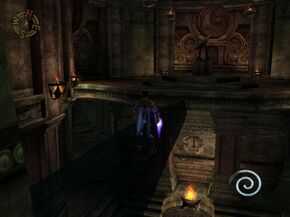 Shadow Bridges were bridges that were associated with elemental Darkness and the Dark Reaver. They were apparently composed of shadows that floated in mid-air and were solid enough to be stood on and walked across. The bridges were seen in Soul Reaver 2 and were presumably created by the Ancient Vampires.
---
Read more... · Featured article candidates
Featured media
Soul Reaver 2 environment concept art by artist Kory Heinzen showing the statue of Raziel as featured in the Fire forge of that game. Throughout Soul Reaver 2, Raziel had discovered murals relating to the destiny of a Vampire champion, but it was this statue at the altar of the Fire forge - coupled with the recognition of Janos Audron - that made it clear that Raziel was the champion of the vampire race. The statue notably depicted Raziel as an ancient vampire with full wings, and changed as Raziel completed the forge - with the eyes glowing and the Soul Reaver blade flaming after the Wraith Blade was forged with Fire.
---
Past featured media · Main Gallery
Dark Chronicle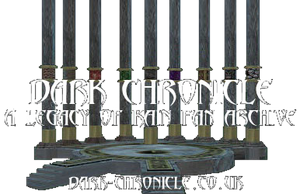 Action-Adventure Games
Go to these sites for info or for help with your own wiki!
Assassin's Creed • Bayonetta • The Binding of Isaac • Devil May Cry • Dragon's Crown • Driver: Parallel Lines • Fran Bow • God Eater • Grand Theft Auto • Just Cause • King's Quest • HITMAN • L.A. Noire • The Last of Us • Legacy of Kain • Legend of Zelda • LEGO Dimensions • LEGO Marvel and DC • Mafia • MediEvil • Metal Gear • Monster Hunter • Ninja Gaiden • No More Heroes • Prince of Persia • Quantum Break • Senran Kagura • Shenmue • Sleeping Dogs • Space Quest • Splinter Cell • System Shock • Titanic - Adventure Out of Time • Tomb Raider • Uncharted • Yakuza
Want your community included? See how!