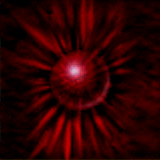 Implode was an artifact wielded by Kain as a fledgeling vampire during the events of Blood Omen: Legacy of Kain. When used, Implode fired a projectile straight ahead that would, if it struck an enemy, cause their body to compress rapidly until they ruptured in a bloody spray of gore and tissue.
The Implode artifact could be acquired from the Spirit Forge hidden within a cave north of Steinchencröe.
Implode is never seen or mentioned again following the events of Blood Omen.
References
Edit
Ad blocker interference detected!
Wikia is a free-to-use site that makes money from advertising. We have a modified experience for viewers using ad blockers

Wikia is not accessible if you've made further modifications. Remove the custom ad blocker rule(s) and the page will load as expected.