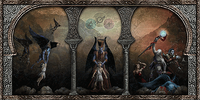 The human revolt was mentioned and depicted in Legacy of Kain: Defiance, and took place before Nosgoth's recorded history. It marked a schism waged within the Circle of Nine, and was the earliest of many significant clashes between Nosgoth's humans and vampires.
The Vampire-Hylden war concluded with the Genesis of the Pillars, a victory for the Ancient Vampires over their Hylden foes, but their race fell victim to the Hylden's revenge: the blood curse and sterility. Vampire Guardians could no longer be culled to sustain the Binding, and humans began to replace them. To perpetuate their race, the vampires abducted the human Guardians, imposing the curse of vampirism upon them as they came of age. The humans resented this practice, and eventually united in a concerted rebellion to overthrow the vampires.
Led by the Time and Death Guardians, Moebius and Mortanius, the humans ousted the ancient vampires from the Circle, and claimed the Pillars for their own. In truth, it was the Elder God – having forsaken his apostate vampire disciples – who orchestrated the uprising, through Moebius.
"This history, in part, I knew already... How, as the Vampires began to die out, the Pillars summoned human Guardians to fulfill their roles. It seemed the ancient Vampires had adopted – and, when necessary, abducted – the human Guardians, and made vampires of them when they came of age. Until the humans rebelled against their masters... And here I made a surprising discovery: it was Moebius the Time Streamer, and Mortanius, Guardian of Death, who led the bloody revolt. Now I understood why Moebius hated me so intensely. I was the first vampire Guardian in all these centuries – and he knew what my coming signified... or perhaps I reminded him of all he had forsaken."

―Kain
Not Competent to Serve
Edit
Wrong to Overthrow Them
Edit
"Why then did you allow the Pillars to fall into human hands?"

―Raziel
"It was a necessary evil. Our immortality banished us from God's grace – He turned His sight from us, and fell silent. Many took their own lives, unable to bear the separation from our God."

―Janos Audron
Attributes
Edit
Continuity
Edit
Belligerents
Edit
Participants
Edit
Development
Edit
Appearances
Edit
References
Edit