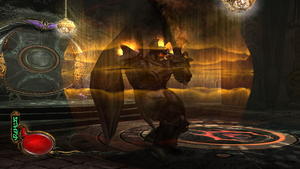 The Fiery Shield is referred to simply as a "Fire Shield" in the Defiance manual, while the Prima guide refers to it as "Fiery Shield".[1][2]
References
Edit
↑ Legacy of Kain: Defiance manual. Crystal Dynamics. (Eidos Interactive). PC (November 11, 2003) Download.
↑ Prima Games / JDP and Gerald Guess. Prima's Official Legacy of Kain: Defiance Guide. (2003)
Ad blocker interference detected!
Wikia is a free-to-use site that makes money from advertising. We have a modified experience for viewers using ad blockers

Wikia is not accessible if you've made further modifications. Remove the custom ad blocker rule(s) and the page will load as expected.