Originally very common in the beta version of Legacy of Kain: Soul Reaver.
The staff seemed to be a prototype which was frequently used in the Lighthouse Demo and the beta versions. Only one was left in the final game which can be found in the Ruined City.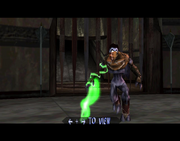 References
Edit
Ad blocker interference detected!
Wikia is a free-to-use site that makes money from advertising. We have a modified experience for viewers using ad blockers

Wikia is not accessible if you've made further modifications. Remove the custom ad blocker rule(s) and the page will load as expected.